IRS Tax Penalties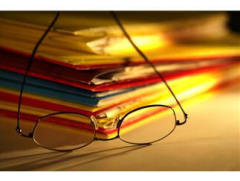 If you've failed to file or pay your taxes, don't wait to get the situation corrected. The longer you wait to pay back taxes, the greater the IRS tax penalties will be. In addition to the burden of having your tax debt grow out of control, the IRS might threaten to take your property to cover the debt. Depending on your circumstances, there may be several solutions available to you right now. Find out what your options are by calling the expert tax consultants at Ronald A. Muscarella CPA in Miami today. The road to tax relief, penalty abatement, and problem resolution begins with that one phone call!
Our experienced and knowledgeable tax professionals are ready to help you reduce or remove tax penalties including tax liens, IRS garnishment, and levies against your assets. We can also help you negotiate an IRS tax settlement, such as an IRS installment agreement or an Offer in Compromise. We'll work tirelessly on your behalf until you get the IRS tax relief you need and deserve.
No matter which tax penalty or IRS collection strategy you're dealing with, there is an answer—and the first step is bringing in a skilled IRS negotiator like the team at Ronald A. Muscarella CPA.
The Internal Revenue Service is serious about getting the money it's owed, and Ronald A. Muscarella CPA is serious about helping you avoid or minimize federal tax penalties, unrealistic payment demands, and mountains of overwhelming tax debt. Whether you need an IRS installment payment plan, an Offer in Compromise, or innocent spouse relief, our team is ready to step in and help you get the tax relief you're entitled to.
Contact Ronald A. Muscarella CPA now for relief from an assortment of burdensome tax penalties and the snowballing effects of IRS tax problems, including the following:
Income Tax Penalties: The IRS will fine you for tax balances that are delinquent. You may be subject to both a failure-to-file tax penalty and a tax penalty for underpayment. You'll also accrue interest on the balance. These income tax penalties can make a small, manageable debt grow exponentially, so it's best to resolve back taxes as soon as possible after the initial deadline.
IRS Wage Garnishment: When your debt reaches a certain level, the government is authorized to garnish a portion of your monthly wages to put toward the back tax balance. While IRS garnishment might seem like a quick way to pay off back taxes, in reality, having your take-home pay drastically reduced can make it hard to pay your bills and care for your family. If IRS wage garnishment is resulting in financial hardship, the tax experts at Ronald A. Muscarella CPA can petition on your behalf to stop the garnishment and work to develop another tax settlement strategy. 
IRS Liens: The IRS can put a lien on your assets as security in case you fail to pay what you owe. While an IRS tax lien doesn't represent actual seizure of your property, it can be just as harmful to your financial situation. Your credit rating will drop drastically. You may find it difficult or impossible to secure a loan. If you've been notified of an IRS tax lien, call Ronald A. Muscarella CPA to discuss your options, such as setting up an IRS installment payment plan as an alternative.
IRS Summons and Seizures: Tax liens are a precursor to the IRS's most drastic way to resolve your unpaid taxes: IRS levies. An IRS tax levy summons means that if you don't pay your balance by the deadline specified, the government may seize your real estate, vehicles, bank accounts, or other assets. If you receive notification of an impending IRS tax levy, call Ronald A. Muscarella CPA immediately. We'll work quickly to secure an IRS tax settlement that removes the levy and allows you to pay what you owe without losing everything in the process.
tax liens
tax penalties
tax penalty